Cozy Millet Bowl with Mushroom Gravy and Kale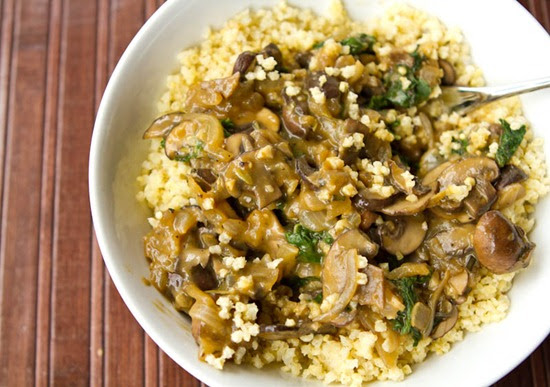 MAIN INGREDIENTS
Servings: 2
1/2 cup uncooked millet
1/2 tbsp olive oil
1 cup onion, chopped
3 garlic cloves
2 cups Cremini mushrooms, sliced
1 tbsp rosemary, chopped
7 tbsp nutritional yeast
1.5 tbsp tamari(soy sauce)
1/2 tbsp cornstarch
1.25 tbsp vegetable broth
1 cup kale, chopped, stems removed
salt and pepper to taste
1. Toast millet.

In a pot or skillet with a lid, toast the millet over medium heat, stirring frequently, until it starts popping. Be careful you don't burn it. The goal here is a light toast.

2. Cook millet.

Bring a medium-sized pot of 1 cup water, a pinch of salt, and 1/2 cup uncooked millet to a low boil. Reduce heat to low and cover with tight-fitting lid (with no air holes). Simmer for 15-20 minutes or so. Remove from heat and let sit for 5 minutes covered. Remove lid and fluff with fork. Set aside.

3. Cook vegetables.

In a large skillet, heat oil over medium heat. Add in chopped onions and garlic and sauté for about 5 minutes. Add the sliced mushrooms and sauté for about 12 minutes longer, stirring as necessary. Now stir in the rosemary, nutritional yeast, and tamari. Cook for a few minutes.

4. Make gravy.

In a small bowl, whisk together the broth and cornstarch until clumps are gone, and then stir into the mushroom mixture. Stir in kale. Cook for another 5-6 minutes or so, until slightly thickened.

5. Serve.

Portion millet into two bowls and serve the mushroom gravy on top.
Enjoy!